Gender: Male
Age: Unknown, N/A
Height: 10' 5" Feet
Species/Classification: Evil Digimon (sort of ironic as none of his anime incarnations are truly evil)
Destructive Capability: Mountain Level+
Damage Capacity: Level 14
Strength: Class 100
Speed: Relativistic+
Durability: Multi-City Block+ (likely higher)
Stamina: Large, never shown to tire or get winded in battle.
Intelligence: Has a lot of combat experience, usually has a fair idea of what he's doing.
My Theme song
http://www.youtube.com/watch?v=g9skUH9rSD8
I am beelzemon i have Light purple skin. i have blonde hair have red eyes .Also have a long Silver tail and black feathers type wings (( only have wings when i turn into my blast mode)) also wears a Dark purple mask over my face only showing half my face only my mouth and cheeks and eyes shows nothing more
I wear black leather jackit i also wear a body suit aswell that covers up my hole body i also wear black boots that come just under my knee caps with 3 spikes at the end on the top aswell wears black gloves aso wears a red scarf around my right arm also has 2 brown straps on my right leg. kinda like a biker look
Weapons Claws, 2 Shot guns, Cannon
Attacks
- Dubble impact he draws his 2 shot guns that are powerful and deadly.
-Corona blaster Shot out a energy beam.or a energy ball.
- Corona Destroyer (Chaos Flare): Draws an inverted pentagram with his cannon and fires energy blasts through it creating a giant continuous beam as long he keeps firing
- Darkness Claw: Raises a claw overheard and then tears the opponent to pieces.
- Fist of the Beast King: He can used it in his blast form after absorbing Leomon
- Primal Orb: Beelzemon is able to use his attack, which conceals his enemies in inescapable bubbles
Does not own any of these pics but will remove if the artist says so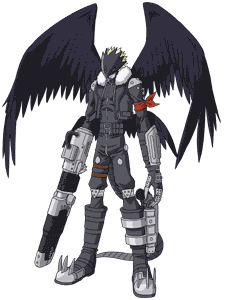 Beelzemon blast mode

What Beelzemon wears and looks like.
(( <--- My drawing.))
My Chibi form x3